---
Making a Difference for Love Orphanage: Project Update

Ahaji arrived at the Love Orphanage this summer carrying all of our donated supplies! When she got to the orphanage, all of the kids swarmed her, so happy she came to visit. A huge lunch was served to Ahaji and the Drexel University students to show their appreciation. Here are some photos of Ahaji's reunion and the Drexel students preparing to play games with the children.

Gabriel was completely overwhelmed with gratitude for the amount of supplies we gathered from our community. He and Ahaji showed the kids their new school and art materials. Each child got a nylon bag for their personal belongings. Remember that they have not had personal belongings before! They are now all set with school supplies and backpacks for the Fall school year!
I sent a short bio about myself so the kids could learn about me and see pictures describing my life in the US. Here is Gabriel translating my English story into Creole. Remember that Gabriel was a professional translator before he became parent to 17 children!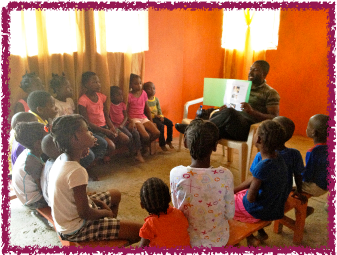 Using some of the new art supplies, Ahaji was able to give the kids their first informal art class at Love Orphanage. They decided to do finger painting! All of the kids took part in making colorful pictures. They also were given dental hygiene coloring books and Ahaji taught them about how to properly brush their teeth. In the picture below the children were working on a bench. I already found someone who donated two tables to use for a classroom and eating area.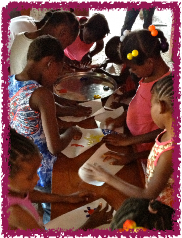 I prepared a questionnaire for Ahaji to ask the kids while she was in Haiti. I was interested in asking the kids about school and their life at the orphanage. To go along with the responses, each kid took an individual picture! This information will be used for the "Meet the Kids" portion of the website. Wait until you meet these kids – their answers will move you to laughter and tears. Below is Olson who is 5 (left) and Made who is 9 (right) in their new clothes.
While I was leading the supply drive, Ahaji was in the process of helping Love Orphanage purchase a new piece of land. With the 10,000 dollars she raised, they were finally able to buy a plot of land away from the city of Port-au-Prince AND break ground to lay the foundation for their new building. They are currently living in a temporary home with an amazing view very close to their new property. The home is very basic. Just look at their kitchen and one pot. It was upsetting to learn that their tables and many beds were broken in the move.

Remember the second grade pen pals? Each of the second graders wrote cards for the children in Love Orphanage and sent along a video of them singing the Star Spangled Banner. Here is a picture of the LO kids holding their pen pal cards from our second graders. The LO kids also sang the Haitian national anthem and sent a video for the class. It is precious! I was able to meet Gabriel and the kids via Skype but poor reception made it hard to say more than hi.
This update was to inform you of the incredible progress we have made in helping the kids at Love Orphanage. It wouldn't have been possible without you! The more I learn about the needs of these children, the more I want to help them improve their lives. I believe education is the key to rising out of poverty in Haiti. Setting up a sustainable educational program and additional instruction to meet the needs of these children will without a doubt change their lives.
Phase Two of my Silver Award project is to create the Be a Difference Maker program and the Meet the Kids pages for the upcoming Love Orphanage website. My goal is to educate people so they may choose to participate as Difference Makers who can change lives for the LO children. If you want to learn more about the educational challenges for kids in Haiti, check out a recent presentation I did during Phase One of my project (Share Your Love Supply Drive). Ahaji joined me in this presentation before her summer trip to Haiti.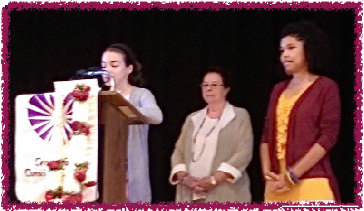 My DREAM is to send the 16 school age children to the local private school. I asked Gabriel for the Love Orphanage educational budget for the year. Can you believe it only costs $230 to fund one child's education for the entire year? This includes tuition, uniforms, books, and shoes. This dream is doable because people in the US care about helping kids! I also learned most of the LO kids have hardly had any schooling due to the impact of the earthquake and poverty! They are illiterate. Imagine the older kids having to begin at the level of kindergarten with the little ones. AND they have to learn French as all lessons are taught in French, not Creole. The challenges for these kids are tremendous, but they are so eager to have the chance to learn. Gabriel will do everything in his power to make this happen.
Together we can make the dream of education a reality for the Love Orphanage children. While I am busy writing the content for the website, Ahaji and my community partners are already using my materials to spread the word and invite people to join our Be a Difference Maker program. If you are interested, let me know and I'll put you in touch with Ahaji or my community partners at the Center for Conscious Living, Soul Sanctuary, Live in Joy Yoga, and Shine!
I am a Difference Maker. I hope you are one, too.
When I learned that the tables at Love Orphanage were broken in the move, my dream expanded! Brainstorming with Ahaji, I was inspired by our ideas of how to help these kids reach their potential, rise out of poverty, and create a meaningful life. In the future, I'd like to help build a classroom and library in Love Orphanage and bring in teachers to enhance the very basic education offered in Haiti's private schools.
I'll leave that dream for another, not so distant day.
Thank you for all of your help and support! Please feel free to share this project with anyone you think might be interested in helping the LO kids get to school this year. I will send another update as we get closer to the school year which begins in October.
Sami
Save