Volunteering with Our Children 
Love Orphanage is happy to host volunteers, both individuals and groups. We recommend that interested volunteers propose and create a child-focused workshop to carry out during their visit.
Ideas include:
Teaching English          Sports                            Field Trips
Facilitating Arts            Music Activities         Urban Gardening
We will provide volunteers with help and guidance in planning their proposed workshop or activities. We welcome your creativity in sharing your special skills or talents with our children! In addition, volunteers can provide assistance with daily logistics and organization at Love Orphanage.
We are also seeking volunteers with skills in Photography, Film Making, or Grant Writing to contribute to our marketing and fundraising projects.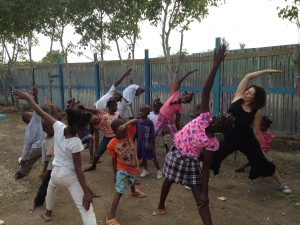 Staying in Haiti
Because Love Orphanage has limited resources, volunteers must cover the cost of their travel, accommodations, meals, and other related expenses. Volunteers will be housed at a guest house in Croix des Bouquets, within close proximity to Love Orphanage. We can provide volunteers with assistance in making reservations and travel plans. We recommend planning a volunteer project no less than 6 to 9 months in advance to allow for proper planning and logistics.
Language Skills
Both Creole (Kreyol) and French are the official languages of Haiti. French is spoken by roughly 30% of Haitians and is also the dominant language of education, business, and government. The children at Love Orphanage speak Creole and are learning French. While knowledge of Creole and/or French is helpful, volunteers are not required to speak either language, as English translation can be provided. Our Director, Gabriel Fedelus, speaks fluent English and additional translators can be hired as needed.
If you have a group that is interested in volunteering at Love Orphanage, please complete this volunteer inquiry form. Individual volunteers cannot be accommodated.
*Please note that during the academic year (September – June), our children are in school Mondays – Fridays and spend evenings doing homework. Ideal volunteer time frames are during the winter (Christmas), spring (Easter), and summer break.

Save