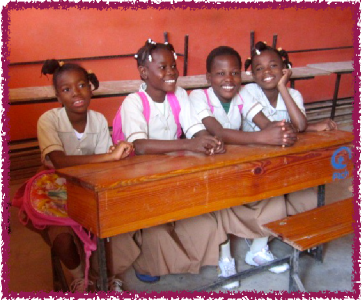 ---
Love Orphanage Goes to School

Sami's Girl Scout Silver Award is a Success!
Hi. I am excited to let you know that, as of today, I am completing my Girl Scout Silver Award. I have been raising awareness of the educational challenges for Haitian children. I believe a loving home and an education are the way these children can rise out of poverty and transform their lives. Gabriel Fedelus has already offered these 17 children a nurturing home at Love Orphanage.
With your help, and the assistance of so many caring people, my dream of sending the Love Orphanage children to school is finally a reality. Gabriel and the kids believe in us! Here they are with their back packs and school supplies – ready for what is to come. Remember that table we ordered? It fits everyone and offers them a place for meals, homework, and art classes.
Here is the summary of my Silver Award Project: Phase One was the Share your Gift of Love Supply Drive. This was a great success as Ahaji and the Drexel University students delivered 10 bags of school and art supplies and flip flops directly to Love Orphanage.
Phase Two of my project aimed to send all 16 school age children to school this year with their books, uniforms, and shoes. Thanks to everyone who had contributed early in my project, we sent enough money to Gabriel to have uniforms made and a deposit placed for all 16 kids to go to school in October! Here is a picture of their local private school and the kids in their school uniforms.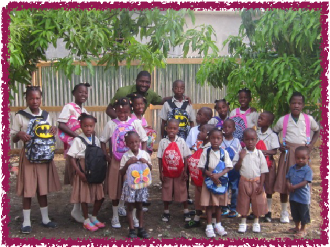 Guess what? Ahaji and I just learned tonight (September 16th) that the Haitian government decided to start school earlier than usual this year. Since the kids were prepared, they actually started school yesterday! Isn't that amazing? Gabriel said the kids are SOOOO excited! Remember, most have never been to school. Here is a picture of the girls in their classroom. This is a day they will never forget!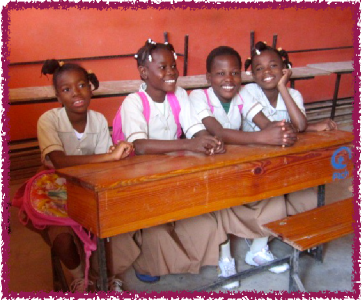 Phase Three focused upon the need to bring teachers into Love Orphanage to offer them French lessons, basic skills tutoring, and art classes. This supplementary educational support is essential so the children can catch up on all the schooling they missed.
Phase Two and Three depended upon the Be a Difference Maker fundraiser which was generously presented by Soul Sanctuary and the Center for Conscious Living last weekend. The Be a Difference Maker fundraiser was a grand success beyond my wildest dreams! On Saturday, I made a few presentations to interested groups at Soul Sanctuary about the LO children's educational needs.
All afternoon, I spoke with people who also enjoyed an art auction and services which raised funds for the children. You can see below the beautiful art items that were donated for the art auction. I would like to thank everyone who so generously donated their talent and service to the Be a Difference Maker fundraiser. The art was amazing and the day was a lot of fun.
On Sunday, I presented at the Center for Conscious Living about the final phase of my project which was followed again by the art auction. I am not a fan of public speaking, but I had a lot of practice and received support from people who listened and appreciated how we were trying to raise awareness and educate the LO kids. It helped that my project mentor, Ahaji, was with me every step of the way.

The people from the Center for Conscious Living and Soul Sanctuary have made all the difference in the success of every phase of my Silver Award project. I am grateful for my community partners and all the volunteers that staffed these events. I couldn't have done it without them! Special thanks go to Ahaji and Gabriel, Rev. Carol Lawson of CCL, Mary Law of Shine!, Julie Fischer of Live in Joy Yoga, Sue Berry and my Girl Scout troop, Mrs. Rosenberg of Hillside Elementary, and Kathy Milano of Soul Sanctuary.

When my community partners asked for a fundraising goal to focus on, I shared the educational budget Gabriel sent me. To educate the children in a local private school, it would cost $230/year for tuition, books, shoes, and uniform per child for a total of $3680. Well, these kids are certainly going to school! Are you sitting down? I am thrilled to announce that as a result of the Be a Difference Maker program, my partners have raised a total of $10,183! Wow!
All of this money raised will be used for the children's educational needs and will be reported through my blogs about how it is applied. Gabriel and Ahaji are committed to transparently report how your funds are used. Here is a picture Gabriel sent of himself and the director of the school as he registered the children. You can tell Gabriel is overflowing with happiness!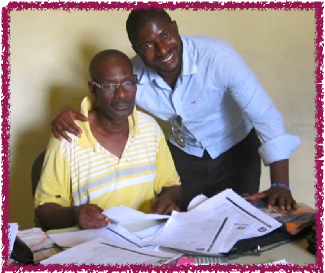 Gabriel and the children are just so grateful. Gabriel sent me a letter which emphasizes how critical education is to give the children a chance to rise out of poverty. It is a really touching letter, so I have shared it on the website for you to read. Here are the kids with their artistic thank you banner – this is for YOU! It says, "Thank you SOOOOO much Ahaji and Sami and everybody who has been contributing to send us to school. We love you. We all love you so much. May God bless you."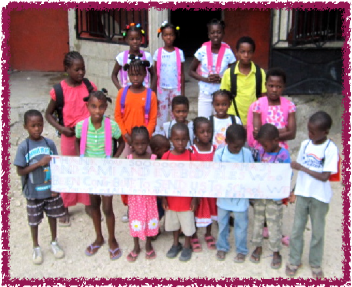 With some of the remaining funds targeted for education, Gabriel and Ahaji are exploring how to bring teachers in to support the children after school. This will also provide Gabriel with more adult support for his large family. There are big challenges for Gabriel in accessing quality teachers/tutors  and obtaining books and educational materials, while at the same time running the orphanage. However, he is amazing and his enthusiasm is renewed with our help. I believe Phase Three will be accomplished in the near future once the children get settled into their school schedule. I'll let you know when it is in place. The remainder of the collected funds will be held for the next phases of the educational dream as you will read below.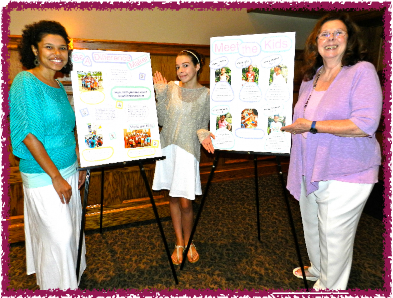 I am so grateful for your help, for Gabriel's vision, for Ahaji's commitment, and for all my community partners who have helped me exceed my expectations for my Girl Scout Silver Award. I may be finished my Silver Award, but I am already planning on what I can do for my Gold Award.
The children are still sharing beds and living in cramped temporary housing. Financial resources are scarce and food is simple. The electricity is unstable and there is no transportation. A beautiful plot of land is nearby with only a foundation to show where the future Love Orphanage will stand. Ahaji and our community partners will continue to work to raise funds for the new building, while I explore how to bring in teachers, books, and design a large classroom in the orphanage that will double as a space for meals, community meetings, and art classes.
The Love Orphanage children have found a family in the US and we aim to continue helping them grow, learn, and prosper. We fully expect that they will develop into the Difference Makers that can influence Haiti's future in a positive way. Thanks for being a part of our dream.
I hope you stay tuned as the Love Orphanage website is being constructed and another fundraiser is being planned at Live in Joy Yoga in Audubon on Sunday, October 26th. I will keep on presenting what I learn about how the children in Haiti can be educated and given a chance at a new life.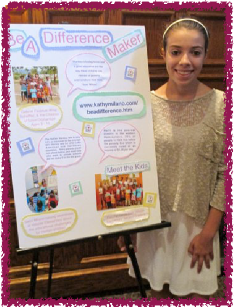 I am a Difference Maker who knows the power of a community coming together to Dream the Future for the Children of Love Orphanage. I am glad you have joined me in this adventure. Please help me Go for the Gold!
Thank you! Sami